Launching your new logo is one of the most exciting milestones in the business development process.
It's at this point that you really put a stake in the ground and say, 'This is who we are, this is what we do, and this is where we're going'.
For business owners, the launch of your new logo and branding is not only wildly exciting because it's the first time you're able to communicate these things publicly, but also because this 'unveiling' represents weeks, months and oftentimes years of planning and behind-the-scenes market research and business development that you're finally able to 'hit go' on and share with the rest of the world!
If you've just been through this process, you might be thinking, 'So what now?'
At Verve Design, we've just done a complete overhaul of our branding. Our recent personal experience with this process—combined with the simple fact that we are uncontrollably passionate about effective branding—makes us incredibly happy that you've taken the time to ask this fabulous question!
And while we can't hide the fact that there's a lot to consider in the aftermath of rolling out a rebrand.  We can certainly help you with this process so it's not so overwhelming.
We've put together a checklist of things you should do to maximise the birth (or re-birth) of your great brand:
READ THROUGH THE STYLE GUIDE WE PROVIDE and familiarise yourself with the different types of logos.  In this style guide we also list what colours and fonts we used in your logo design.  This style guide is super useful as it can now be passed on to sign-writers, designers etc. to ensure your brand is consistent.
STORE YOUR LOGOS IN A CENTRAL PLACE so they are easy to find and access.
UPDATE YOUR LOGO IN ALL THE PLACES IT'S SEEN:
Printed materials:
– Business cards
– Letterheads
– Envelopes
– Invoices
– With Compliments slips
– Thank you cards
– Merchandise
– Notepads, proposals, templates, report documents etc.
Online graphics:
– Website
– Email signatures
– Social media
– Third party websites (like Google, industry websites, directories, etc.)
*TIP: Do a Google search in Google Images for your business name and you might find a sneaky old logo being used on a site you'd totally forgotten about!
Signage:
– Shopfront or internal logos
– Vehicles
– Point of sale
– Exhibition graphics (flags, banners, etc.)
ENSURE BRAND CONSISTENCY. Make sure everyone in your organisation is aware of the change and is making changes too!  Perhaps the font used in your email body copy needs an update to ensure everyone is using the same font size, font and colour?
PROMOTE TO YOUR NETWORKS. Post to social media/blog/website/send an email out to make your clients aware that you have a great new look!
UPDATE UNIFORMS. Update staff uniforms and have a phase out period of old uniforms with the old logo.
UPDATE PHOTOS. Are there any photos that show your old logo? ie. Building photos, team shots with old uniforms, etc.?
WHY NOT HAVE A 'BRAND LAUNCH' PARTY?! This doesn't have to be an elaborate affair, and it doesn't need to be a physical party. It could just be a blog post, podcast or video where your team is celebrating your new brand.  It's a great and fun way to explain why you've rebranded and could also be an opportunity to provide some insight into what the new brand means to you. This will communicate to your customers that this process has been a great investment of your time, and a very well-thought-out process.
GET SOME GOOD PRESS! Tell the story of your new brand and get published in your local magazine or newspaper. Here's an example of what we did in DUO Magazine's 100th issue…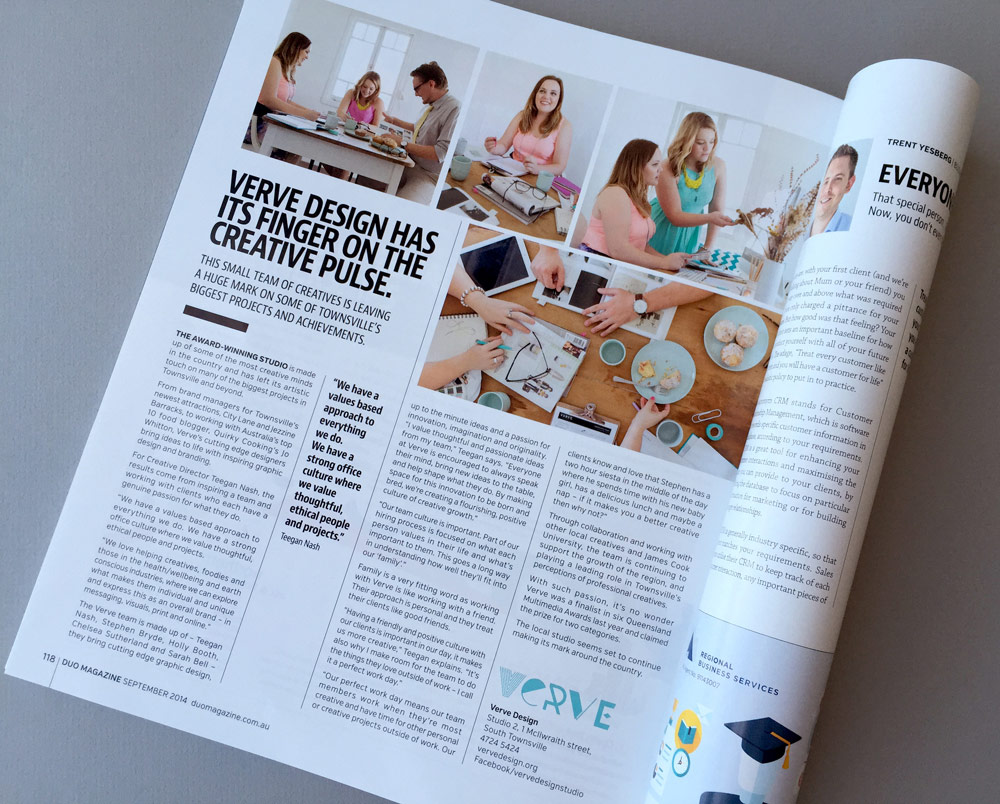 When you launch or re-launch your brand, you want to absolutely maximise the potential mark you leave on the marketplace, and the best time to make this mark is right now!  Of course if you're rebranding, you don't need to do everything we've listed here—all at once. A rebrand exercise could be quite costly, so we recommend a phase out/phase in period of around six months. We wouldn't advise going any longer than this as you don't want to confuse your customers in six months time.
Let us know what your branding or rebranding experience has been like so far!
What tips would you give to others who are going through this process? Leave a comment below…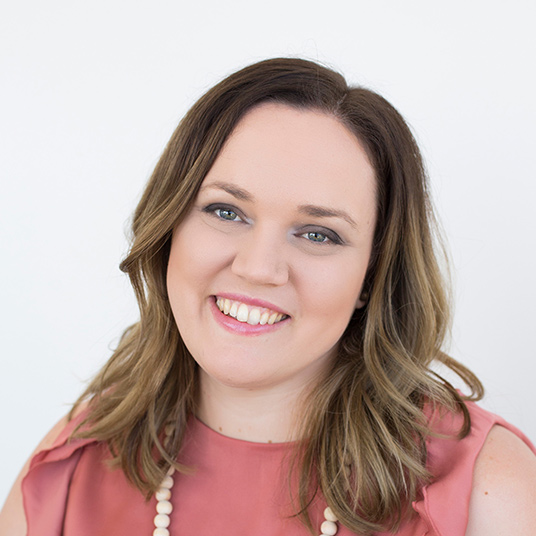 Co-owner of Verve Design, Teegan's 12+ years of experience in design and marketing, and her love of mindfulness and meditation brings strategy with intention and creativity with purpose.