If you followed us on Instagram or Facebook last week you would have picked up some hints that we 'painted' our office mural.
And by 'painted' I mean we covered up the office in plastic sheets and threw buckets of colourful paint at a wall!!! Yikes!!
It was exhilarating, exciting, fun, and very playful (not to mention a little messy!)
Like any creative process – the planning stages are the most important, and this is the secret recipe to creative success.
In planning any creative project there's a brief, a method for the project's output, there are ingredients and tools, technique and skill.  All of this planning means drilling into every detail to ensure a great outcome is achieved.
So while we say in jest that we 'threw paint on a wall', what really transpired was weeks of creative planning (which was totally representative of the day-to-day processes we have with our clients).
Here's a sneak peek behind the scenes and the 'creative process recipe' to our wild and wonderful mural's success.
The Creative Recipe: Verve Mural
The Ingredients:
8 x 40L buckets of paint
8 x vibrant (ie. 'Verve brand) colours
4 x enthusiastic creatives
4 x coordinated outfits and shoes
90 metres of plastic and tape to seal off the area
1 x blank pre-prepped wall in a new studio needing some creative love
Various tools used to throw paint onto a wall
Method:
The idea evolved after we were inspired by a mural wall of dripping paint.
"Let's try that!" I said with excitement, after we had just signed the lease on our new studio.
So, the planning began – 6 weeks out until painting day.
In planning, the techniques of art and design always come into play; colour, balance, texture, tone, shape, hierarchy and symmetry were all considered.
So with that – our team brainstormed 'tools' to apply the paint to get this result.  Including ideas to use water balloons, various sizes of cups, containers and buckets, a garden hose, and even water pistols!
We wanted a variety of shapes to illustrate our energy and creativity. We experimented 'air guitar style' with different methods of throwing; using different angles and different weights of the apparatuses.
We wanted the colours to pop, blend and marble, so it was important to get layers.  In order to achieve this, we decided to 'layer' the design over three painting sessions, allowing time for paint to dry in between.
In the first layer the paint was very thick and still semi-wet, so this allowed the colours of the second layer to 'marble'.
The final planning involved co-ordinating what colours to use on what layer, times of application as well as drying times.
We also wanted to capture the entire process via time lapse video – So our friend Honey, from Insight Creative, captured the entire day. (There was an entire separate briefing and creative process that happened with the video pre-production too).
Originally we'd thought of wearing paint suits and masks – but the clinical feel of the suits didn't align with our brand at all! So we decided to wear 'real' clothes; the kind of stuff we'd wear every day as creatives.
We reserved a Friday morning and put on our coordinated outfits… and the painting began.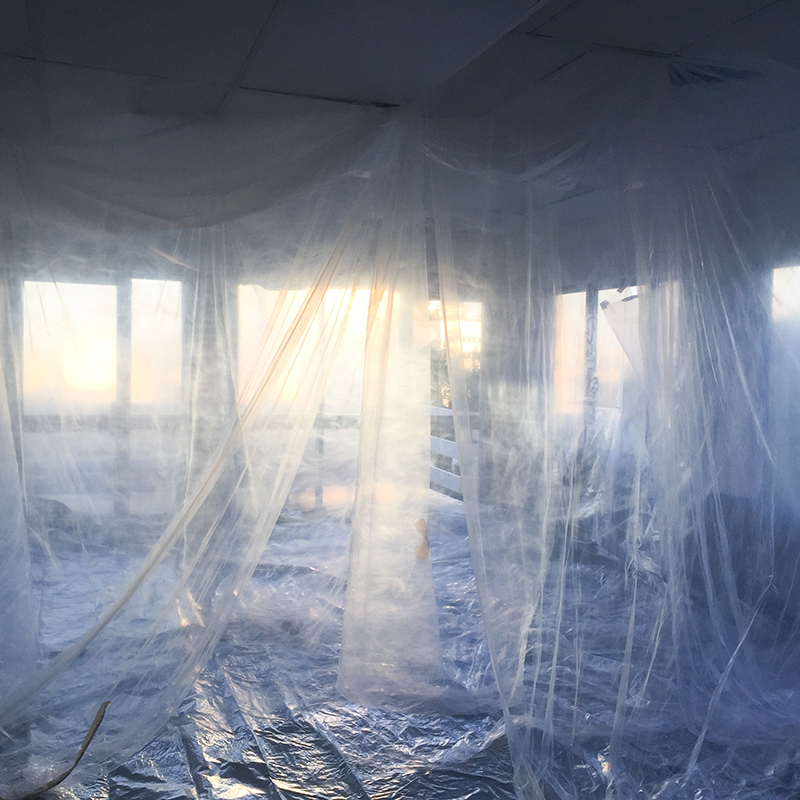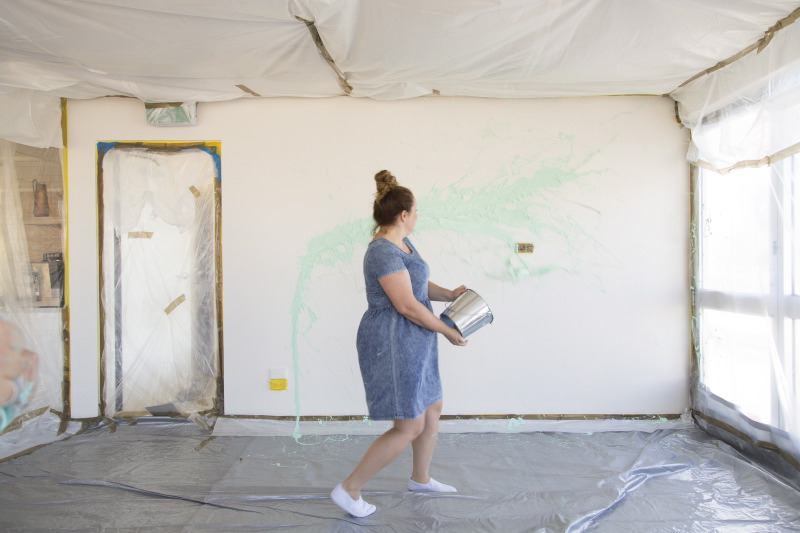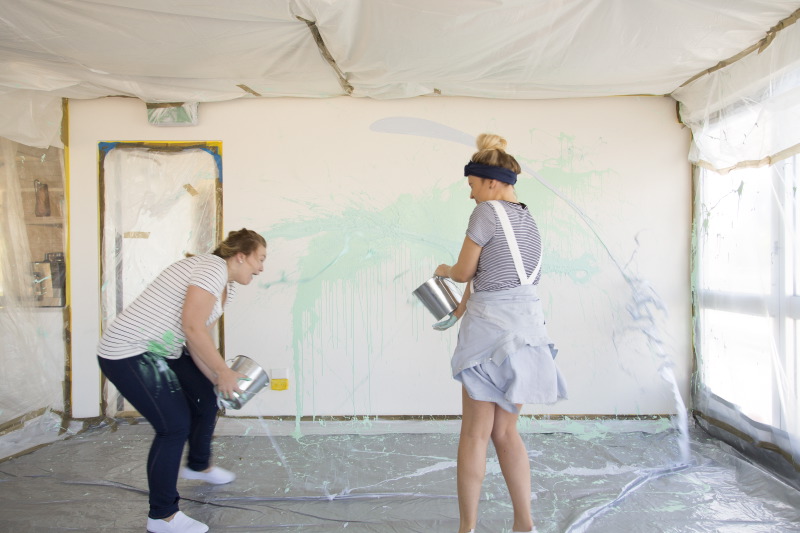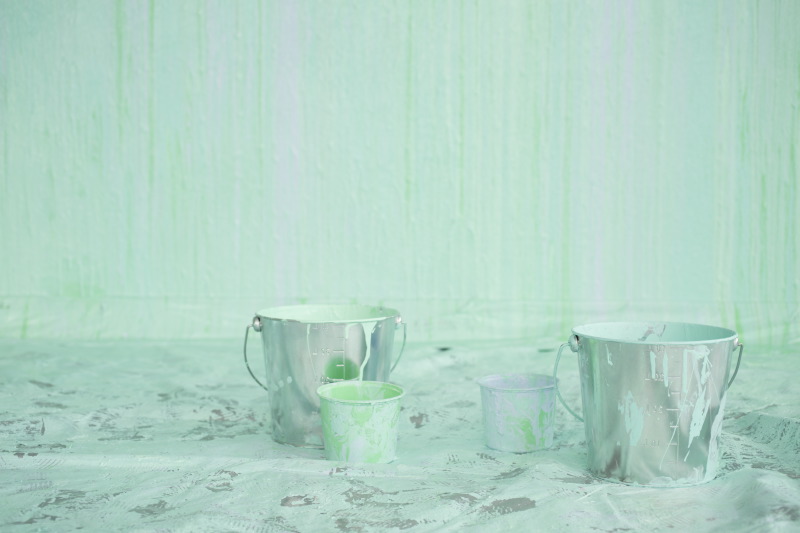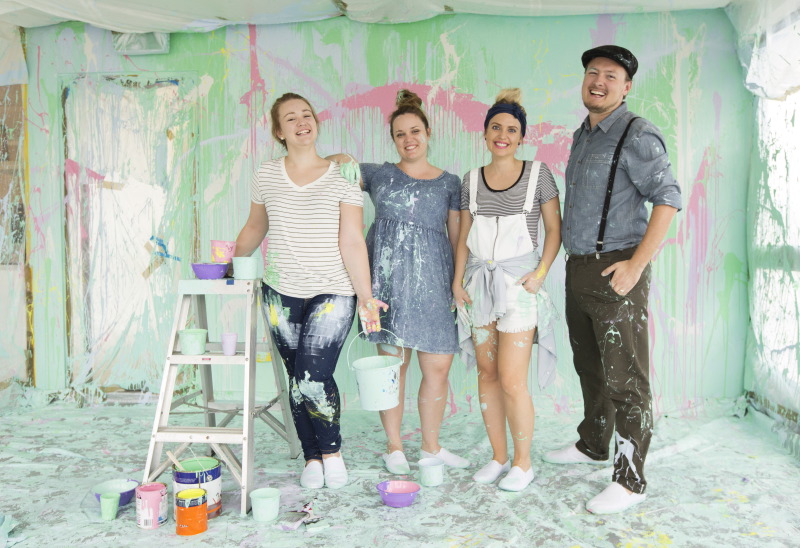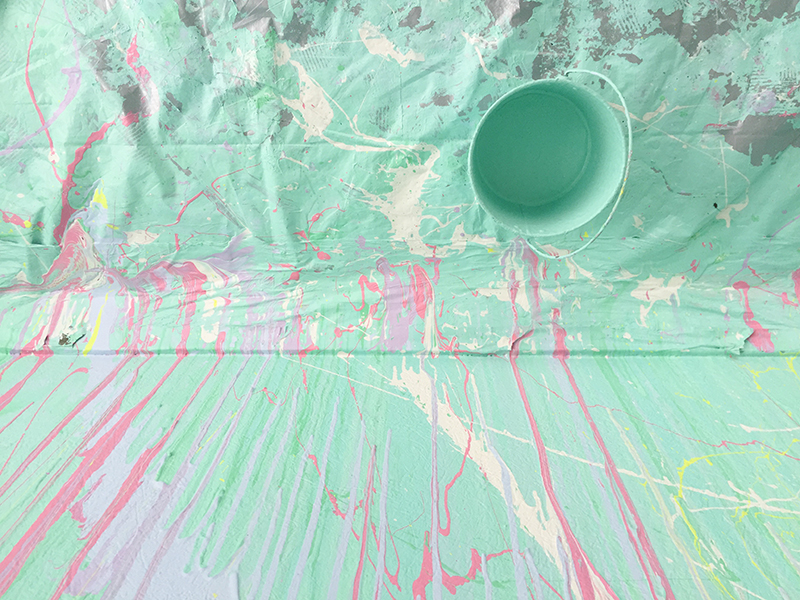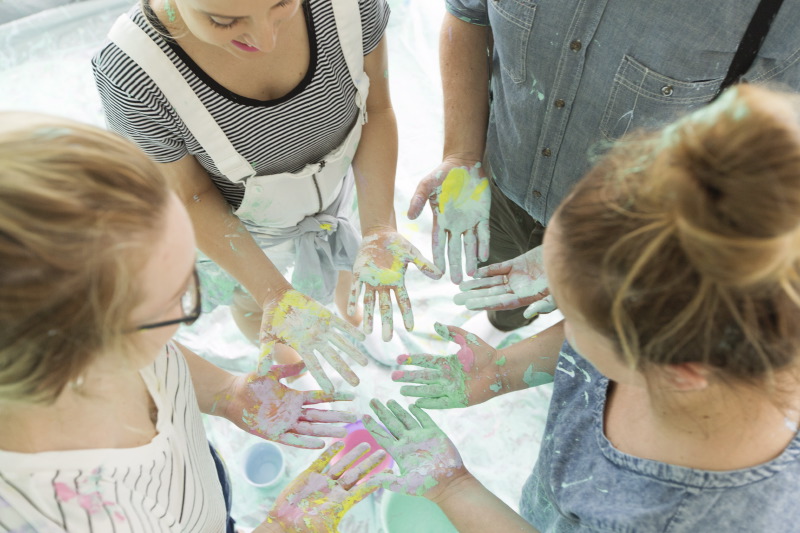 Want to see the end result? We've reserved the exclusive preview of the grand reveal of the mural as well as the time lapse video to our blog subscribers.
Subscribe to our design blog and you'll receive the exclusive preview when it's released soon.
Photography by: Honey Atkinson, Insight Creative
(1st pic taken by us)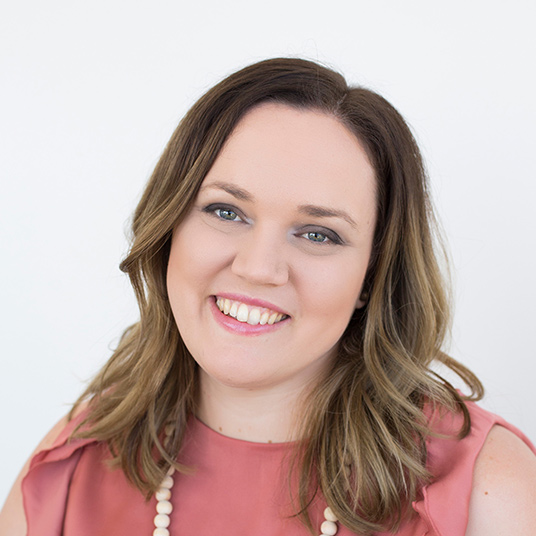 Co-owner of Verve Design, Teegan's 12+ years of experience in design and marketing, and her love of mindfulness and meditation brings strategy with intention and creativity with purpose.