Recently I was scrolling through my Facebook feed, when to my horror I spotted a familiar stock image. I recognised it as one that a very high-profile client of mine was using to represent their brand in a large portion of their marketing campaign. Only now, I saw that the very same image was now being used by another brand, one that's highly controversial. Of course the potential confusion was compromising my client's brand integrity, and it could have real consequences to their business.
Unfortunately this scenario is not uncommon, as the world of free and unlimited-user stock imagery grows. It's a lot easier to grab a stock image online than to have your own individual shoot with images you own. But it does have its disadvantages, as my client quickly learned.
Don't get me wrong, I think stock images have their place; for example, in one-off blog posts or Facebook posts to illustrate a feeling or emotion. But when stock images are used in prominent campaigns to represent the overall message of your brand, and someone else uses that very same image, it could put your brand in danger.
Developing your own library of custom images can help you avoid this headache, while strengthening your brand overall. If you're an online business you probably already know the power of powerful images – on your website, on your blog, in your email signature, and everywhere else your business is represented. This is so in line with what I always preach: brand consistency.
It's so powerful to have a library of images you can always call on, which you know represent your brand 100%. Plus, as I mention above, they're not being used by countless others who've pulled them from a pool of stock imagery.
So what steps should you take to create your own image library, and what kinds of images do you need?
1. Look at your brand's personality.  Consider which five keywords best represent your brand's personality. When we did our own brand photoshoot, I informed our photographer that I wanted to communicate the following: teamwork, creativity, friendliness, warmth and experience. Knowing your brand's keywords is like gold to a photographer, as it enables them to ensure your objectives are met.
2. Get clear on what a great image looks like to you. Of course, personal taste comes into play here, but also keep in mind your brand's personality. Are the two conflicting? Do you like bright vibrant photos, but feel your brand is more conservative? You'll want to find a style that is visually appealing to you but that also aligns with your brand. A great way to explore photography styles is to use Pinterest and develop a "mood board" of photography styles, poses and settings that you like. By creating your mood board and sharing it with your photographer prior to your photoshoot, they'll have a clear visual representation of what you like and don't like.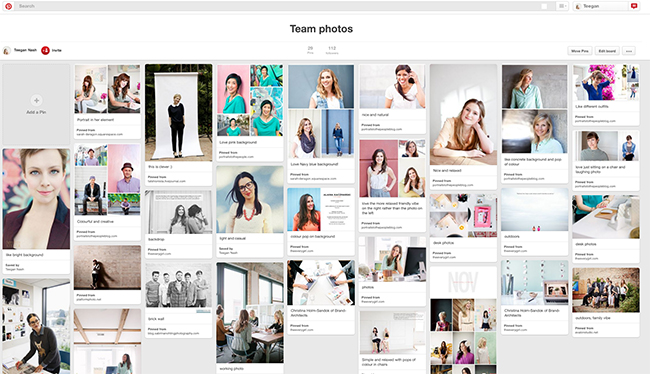 3. Find the right photographer. Choosing the right photographer is a very important decision. I am a big believer that you get what you pay for, so don't opt for the cheapest photographer when it comes to your brand photography. When looking for photographers in your area, view their online portfolio and get a feel for their style. Is it similar to what you've pinned on your Pinterest mood board? Once you feel their style is aligned with yours, make contact with them and get a feel for their personality. It's important you connect with a photographer who is likeminded and with whom you feel comfortable. After all, you'll be spending a lot of time together – and believe me, as soon as you get in front of the camera, you're going to want to feel VERY comfortable with them!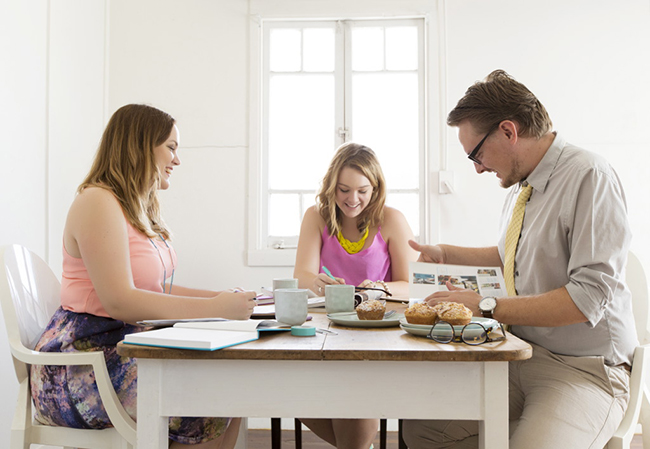 Above: Our team felt very comfortable and had lots of fun, thanks to our photographer Honey Atkinson who helped us feel relaxed and enjoy the moment!
4. Talk about the details with your photographer so there are no surprises for you. The process of briefing your photographer in advance is really important. (See points #1 and #2 above!) This prior communication will help the both of you put together a shot list, or the schedule of the types of shots you need throughout the day. It also gives you the chance to ask about the fine details included in your shoot. How many shots are included in the quote? Is basic re-touching included? How much for extra re-touching? What dates does your photographer have available? How long will the shoot take?  When will you get the finished images after your shoot?  Is there anything they want you to bring besides yourself, your outfits and your props?  Can they recommend hair and makeup artists? Be sure to cover all these questions before the shoot, so there's no surprises or mismatched expectations – that way, you and your photographer can just focus on getting the great shots you want!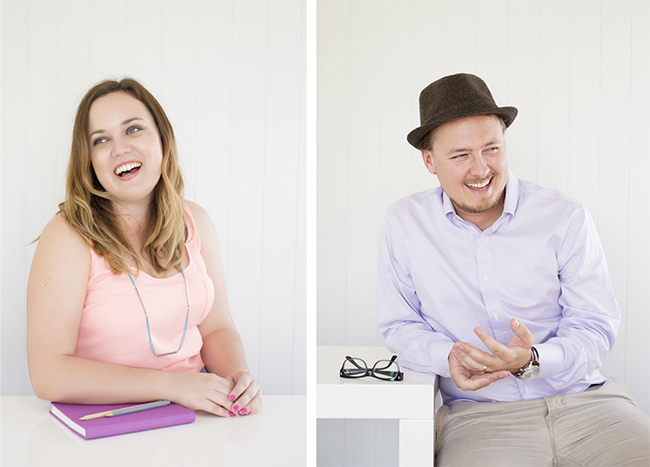 Above: Having our shotlist prepared meant we had a great idea of what we wanted our teams profiles shots to look and feel like.
5. Prepare for the shoot itself. One mistake I made was being under prepared on the shoot day. I hadn't packed my props I wanted to use, and I was rushed with getting my hair and makeup done. Thankfully, the photos turned out amazing, but arriving at the shoot in a tizz is not a great idea. One lesson I learnt for next time is to have prepared all the props for all shots at least one week in advance, so I would have time to source other props if I needed to and to spend time on getting ready and arrive a lot more relaxed. (On a positive note, one thing that worked well for me, was ensuring our team members were dressed and ready to go to the shoot at least an hour before. I also asked them to bring along some backup clothing options, just in case our outfits clashed.)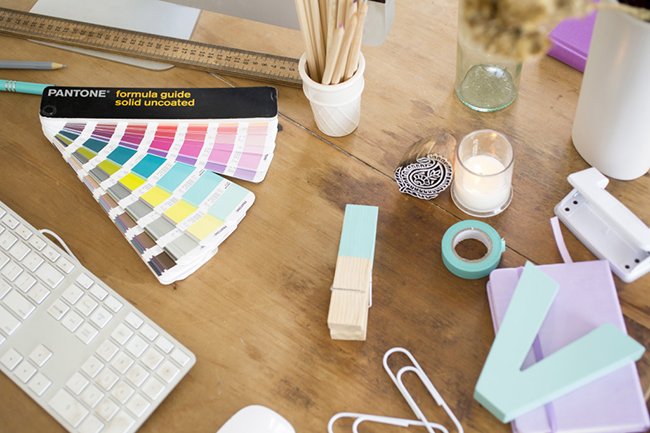 Once the shoot is underway, be sure to have fun, laugh, and think of things that make you happy. Try not to get wound up with caring too much about what the photographer thinks – they want you to be yourself, and to be in the moment and enjoy it. They understand how uncomfortable being in the limelight is, and will be trying their hardest to make sure you're relaxed and having fun!
Once you get your photos back, save them in an easy to find spot on your computer and use them as much as you can! Update your website, social media banners and email signatures with fresh new images, and continue to use your images in future marketing items like email newsletters and flyers. Your business will stand out and be uniquely yours, with exclusive, beautiful images that represent your brand!

Photo credit: This photoshoot is thanks to the talented Honey Atkinson she's now located in the Bega Valley NSW. We can't recommend her enough!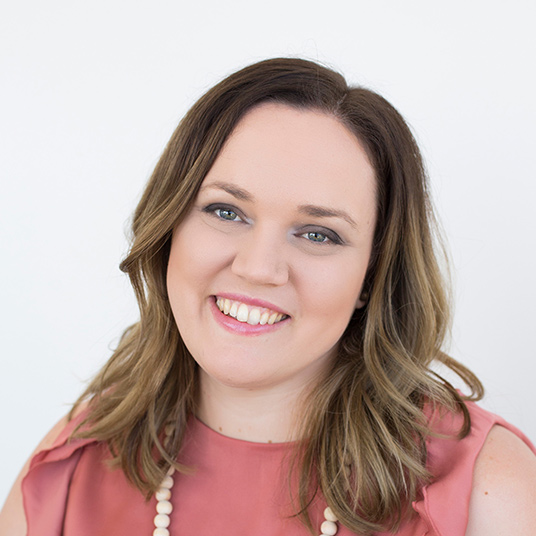 Co-owner of Verve Design, Teegan's 12+ years of experience in design and marketing, and her love of mindfulness and meditation brings strategy with intention and creativity with purpose.