So you want a website for your business. You want it to be gorgeous, functional, and basically to make your dream clients fall madly in love with you and want to spend all their money on you. Sounds pretty simple, right?
If only it were that easy! As any developer or designer will tell you, there are tonnes of aesthetic options to choose from, not to mention the fact that there are all different types of sites. Determining what you really want, and which kind of website will serve your business, is a pretty extensive process, to put it mildly.
Here's a conversation we have almost every time we start a website project with a client.
Client: I need a website for my business. How much will it cost?
Us. We'd love to help you with that! The price depends on what type of website you need. What were you thinking?
Client: Just a simple site. You know, with slideshows, contact forms, pop-up windows, an online shop, a login area for our clients…oh, and a blog too…
You get the picture.
So what do you need to know about narrowing down your choices?
First, understand that a website is not just  a website. It's an extension of your business; a shopfront that's open 24/7. It's also a reflection of your brand, and communicates volumes about you to potential customers. As an example, imagine if you owned a dress shop where all the shelves were in disarray, the window featured undressed mannequins and there was no one at the till ready to take your order. Sadly, this is what some businesses' websites feel like. Instead of cultivating a site that functions well and is appealing to their clientele, these businesses choose to toss up any old thing on the web and call it a day – with no clue the damage they're doing to their brand.
Perhaps the problem is that "website" is too vague a word to convey what it actually contributes to your business. The possibilities of what you can do with your website are practically limitless, but for a business just starting out (or even just starting out online after many years as a brick-and-mortar), the process is daunting.
I've created a list of several different types of websites, and the businesses and clients for which each type is best suited. I've also included some examples of sites we've designed (and a few designed by others), for your visual inspiration. Read on to determine which kind of website can help your business shine online!
---
Type of Site: Basic web presence
Description: A simple site intended to establish credibility and provide basic, yet essential information to customers.
Good For: Brand-new businesses, small businesses, businesses with no "products," businesses offering familiar services such as doctors, dentists, lawyers, mechanics, etc.
Essential Content: Basic business description, services or products offered
Calls-to-Action: Contact/enquiry form
Cost: $
Sites We've Done: Fulham Consulting; Dr. Simone Page
Other Examples:  The Minus Firm, Nicola Potts
---
Type of Site: One-page site with blog
Description: Modern, minimalist site for creative, service-based entrepreneurs with a web-savvy clientele
Good For: Service professionals, designers, artists and other creatives, bloggers, consultants, wellness entrepreneurs
Essential Content: Easily located contact information, hiring details
Calls-to-Action: "Work With Me" page, email opt-in/offer
Cost: $$
Sites We've Done: Verve Design, Johanna Anning
Other Examples:  Rosewater Market & Takeaway, Mind Journal
---
Type of Site: One page site, lots of photos w/ menu
Description: Aesthetically pleasing, yet simple site to communicate services and atmosphere
Good For: Restaurants, coffee shops and other service industry businesses
Essential Content: Opening and closing hours, location, menu
Calls-to-Action: Phone number, booking form, map with directions, social media links
Cost: $$$
Sites We've Done: Donna Bionda
Other Examples: Tavares, Chick's Fry House, Restaurante Baobab, Maaemo, Saboc 
---
Type of Site: General business site
Description: Informational site, useful for a variety of business types
Good For: Professional services, information-based businesses
Essential Content: Clear, concise copywriting, intentional branding, easy-to-use navigation
Calls-to-Action: Contact forms, call/consultation scheduling, download information kit
Cost: $$$
Sites We've Done: Chatswood Central, Brazier Motti
Other Examples: Australia Fair Shopping Centre 
---
 Type of Site: Showroom/portfolio site
Description: Gallery-style site intended to showcase a business' products, a residential or retail space, or an artist or maker's creations
Good For: Architects, builders, interior designers, graphic designers, hotels, tourism industry businesses
Essential Content: Quality imagery, clear explanation of the business' role in the images, contact information
Cost: $$$$
Sites We've Done: Turek Road Interiors, Townsville Texture Coating, Roux Blond, Lancini Property & Development
Other Examples:  Taxonomy of Design, The Greenwich Hotel Penthouse, Blu Homes, One John St., Dumbo Townhouses 
---
 Type of Site: Information-heavy site
Description: Site used to communicate detailed information to visitors and to allow interactive and/or downloadable forms.
Good For: Universities, colleges, government agencies, organisations
Essential Content: Logical site structure and navigation, good search functionality, easy-to-use forms, accessibility across multiple browsers and for visually challenged visitors
Calls-to-Action: Downloadable forms, signup forms
Cost: $$$$
Sites We've Done: Healthy Rivers to Reef Partnership, YWAM Townsville
Other Examples: The University of Sydney, Australian Government
---
Type of Site: Shop site
Description: E-commerce site, enabling visitors to browse products and shop online
Good For: Retailers
Essential Content: Organised shop- and sub-shop categories, easy-to-navigate buy buttons and checkout functionality
Calls-to-Action: Voucher discounts, sign-up to email list
Cost: $$$$$
Sites We've Done: Me Mo Stationery
Other Examples: Bill Blass
---
Type of Site: Online magazine/editorial site
Description: Design-centric site with images and written content for a discerning audience
Good for: Magazines, newspapers and individual writers
Essential Content: Excellent writing and/or photography, unique layout that doesn't look like a blog and allows for easy reading and navigation
Calls-to-Action: Email signup, social sharing links
Cost: $$$$$
Sites We've Done: Confetti Magazine
Other Examples: New York Times, The Great Discontent, Quotes Magazine, Yours Truly, The Forecaster Interactive
Remember that your website may be the first (or only!) impression a customer has of your business – why not give them a cohesive online experience and convert them into raving fans before they even meet you? And when you're ready to upgrade your presence on the web, please get in touch – we'd love to help!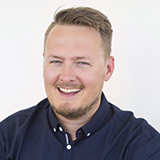 Co-owner of Verve Design, Stephen's 15+ years of experience in design, illustration and web brings creativity, innovation and the kind of tech knowledge most of us are envious of!